ABOUT US
Who BlueSky are, what we can offer and the experience we have…
WHAT WE OFFER
FLYING WHERE OTHERS CAN'T
BlueSky UAV have significant experience in flying multi-rotor and fixed wing Unmanned Aerial Vehicles (UAV's) with the ability to deliver high detail 5.2k aerial filming, high resolution photography, mapping, thermal imaging and 3D modelling.
BlueSky are fully licensed by the Civil Aviation Authority for commercial use. Our advantage in comparison to other conventional operators is that we have exclusive Civil Aviation Approval for Night Flying Operations. We are also able to operate in heavily congested areas with reduced distance separation. No matter the conditions, with BlueSky's all weather ability (Sub Zero, High Wind, Rain, Snow) we can ensure an interruption free project.
Our equipment includes the DJI Matrice 210 equipped with a 5.2k ultra high definition camera, 5.2k 360 camera, and the latest High Detail DJI/Flir XT Thermal Imaging camera with full radiometric technology, seek & search facility and 3D Thermal Modelling capability.
BACKGROUND AND EXPERIENCE
Delivering significant benefits
Having worked within the construction and housing industries for key organisations such as Laing, RG Carter, Tarmac, Morgan Sindall, Balfour Beatty and Victory Housing Trust has given us a wealth of Construction Management, Building Surveying, Asset Management knowledge / skills / experience, which delivers significant additional benefits to our clients.
Not only can BlueSky provide conventional aerial work, we are also able to offer a range of further services which include Quantity Surveying, Project Management and Cost Consultancy.
SAFETY IS PARAMOUNT
Fully trained and experienced
We have formal approval from the Civil Aviation Authority to carry out aerial works and are fully insured for our operations with £10M Public Liability.
Our robust processes and procedures ensure full legal compliance with current legislation. Projects are only undertaken if deemed safe to do so and only after a detailed risk assessment of the specific task has been carried out.
All operators are fully trained and experienced in the equipment they use and hold the relevant qualifications. Our Membership to ARPAS-UK and DroneSafe further demonstrates our commitment to safety and our excellent reputation.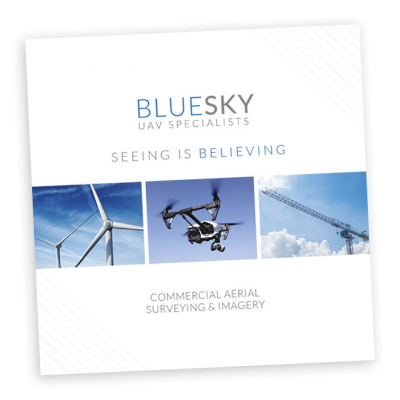 FIND OUT MORE
View our brochure
To find out a little more about us and see a selection of projects in further detail click the links below.
QUALIFICATIONS, MEMBERSHIPS & EQUIPMENT
HOW BLUESKY STANDS OUT FROM THE CROWD